on June 5th, 2012 in
Music
by
Greg
|
Comments Off
We are so excited about the upcoming release of Snacky Tunes Live Vol. 2 – out now for streaming or download. Some of the tracks have found their way out to the internet and we wanted to share them with you. Keep looking here for new tunes or hit up…
Continue reading...
---
on June 5th, 2012 in
Events
by
Greg
|
Comments Off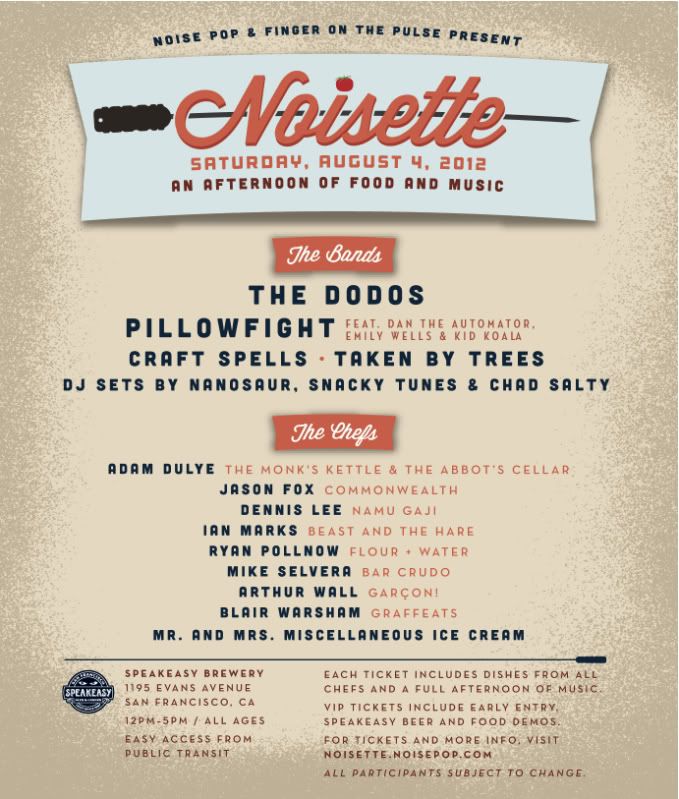 Presented by Noise Pop and Finger on the Pulse, Noisette- a culinary concert block party- will kick off the inaugural event in San Francisco on Saturday, August 4th from 1-5 p.m. VIP hour: 12-1 p.m.. This delicious summer feast and dance party will feature some of the city's best up-and-coming…
Continue reading...
---
on May 30th, 2012 in
Uncategorized
by
Darin
|
Comments Off
Can you feeeeeeeeeeeeeeeeeeel it? It's time for our official release party of our latest PUNCHES EP "It Can Only Get Better" presented by GBH (RSVP here)!Chris Keating from Yeasayer will be tossing it down as well at the Hudson Terrace Roof Deck and it's all going down May 31st. Come…
Continue reading...
---
Brooklyn Beat Art for Progress (AFP) will host "Brooklyn Beat Music and Arts Festival" June 1st thru 3rd at The Paper Box in East Williamsburg, Brooklyn. The festival will coincide with Bushwick Open Studios, and will bring people together for a fabulous weekend of music, performance art, installations, fashion, and…
Continue reading...
---