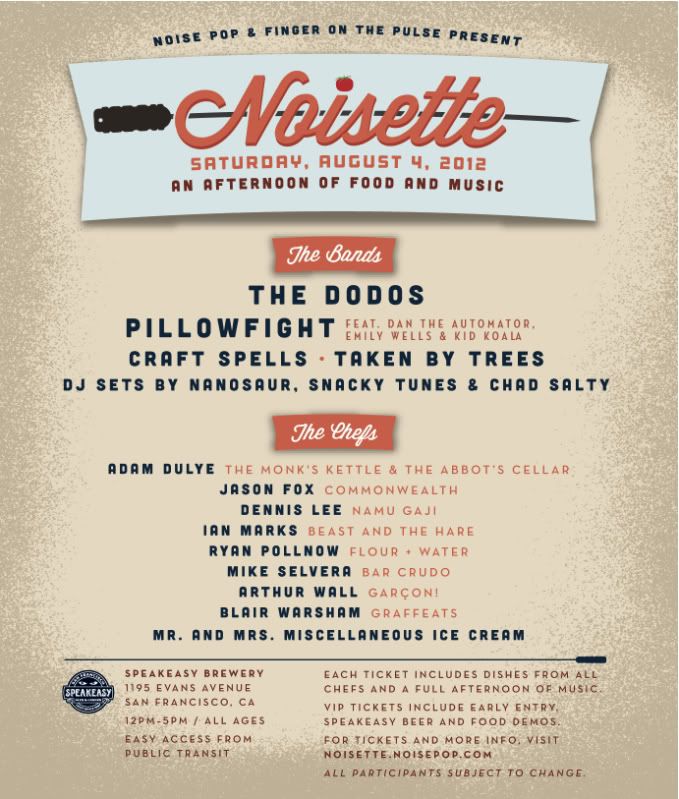 Presented by Noise Pop and Finger on the Pulse, Noisette- a culinary concert block party- will kick off the inaugural event in San Francisco on Saturday, August 4th from 1-5 p.m. VIP hour: 12-1 p.m.. This delicious summer feast and dance party will feature some of the city's best up-and-coming chefs and a variety of indie bands and DJs.
The event is at Speakeasy Brewery (Bay View/Hunter's Point) 1195 Evans Avenue, San Francisco, CA 94124.
Tickets and more info on the event can be located at noisette.noisepop.com.
THE CHEFS
Noisette will host eight "rockstar" chefs from the Bay Area's highly influential culinary scene. Each chef has been tasked to create a unique dish inspired by seasonal summer cuisine. Confirmed chefs: Adam Dulye (The Monk's Kettle and Abbots Cellar), Jason Fox (Commonwealth), Dennis Lee (Namu Gaji), Ian Marks (Beast and the Hare), Ryan Pollnow (flour + water), Mike Selvera (Bar Crudo), Arthur Wall (Garcon!), and Blair Warsham (graffEats).
THE MUSIC
Noisette's diverse lineup of bands from the alternative and independent music scenes reflects Noise Pop's mission of bringing innovative, quality music to a discerning and passionate audience. Confirmed talent: Dodos, Pillowfight – featuring Dan the Automator, Emily Wells and Kid Koala, Craft Spells and Taken by Trees. Confirmed DJ's: Snacky Tunes, Nanosaur and Chad Salty will spin from 12 p.m. to 1 p.m. and between sets.